The size of College Football stadiums keeps growing.  Here's a list of top 10 Largest College Football Stadiums. The capacity of eight venues is beyond 100,000. Except for the Beaver Stadium, all other stadiums mentioned here were built in 1920's.
1. Michigan Stadium (Michigan Wolverines)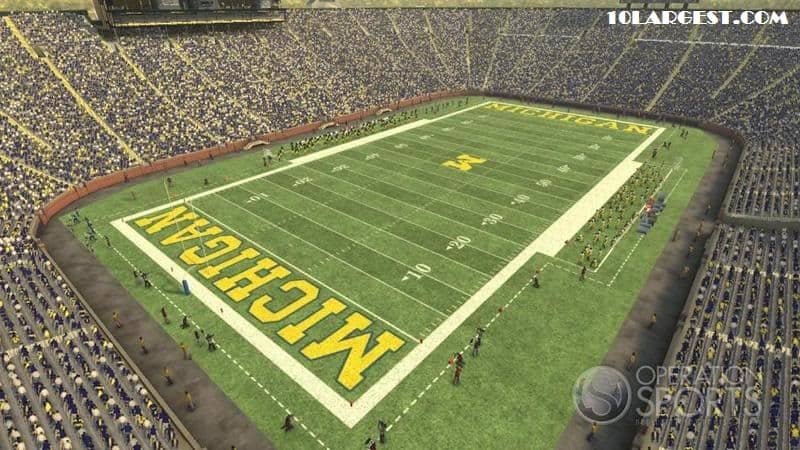 Though it had a capacity of 72,000 when it opened in 1927, its capacity has continued to go up from time to time and at present it capacity is 109,901. It was last renovated in 2010. On September 7, 2013, it contained 115,000 spectators who watched Michigan beat Notre Dame. It is also the 3rd largest sports stadium in the world after the Rungrado May Day Stadium in North Korea and Salt Lake Stadium in India. Michigan Stadium is not open to the general public for exercising, walk-in tours, drop-in photo ops, etc. Guided tours are conducted on weekdays and fee is charged.
2. Beaver Stadium (Penn State Nittany Lions)
Beaver Stadium is an outdoor college football stadium in University Park, Pennsylvania, United States, on the campus of The Pennsylvania State University. Opened in 1970, this is the youngest of stadiums and is generally considered as a stadium having the best section in College Football. Though its official capacity is 106,572, in 2002 it had a record attendance of 110,573 fans in a game against Nebraska. For sometime it occupied the number one spot before Michigan took that title.
3. Kyle Field (Texas A&M Aggies)
Kyle Field is the football stadium located on the campus of Texas A&M University in College Station, Texas. Though completed in 1927, it has been home to the Texas A&M Aggie football team since 1904. Over the last fifteen years there has been expansion of its original capacity of about eighty thousand. Now, it is undergoing expansion to add at least 20,000 seats, bringing its capacity to106, 511 The maximum number of spectators so far has been a bit more than 90,000 in 2010 game against Nebraska. It is named for Edwin Jackson Kyle.
4. Ohio Stadium (Ohio State Buckeyes)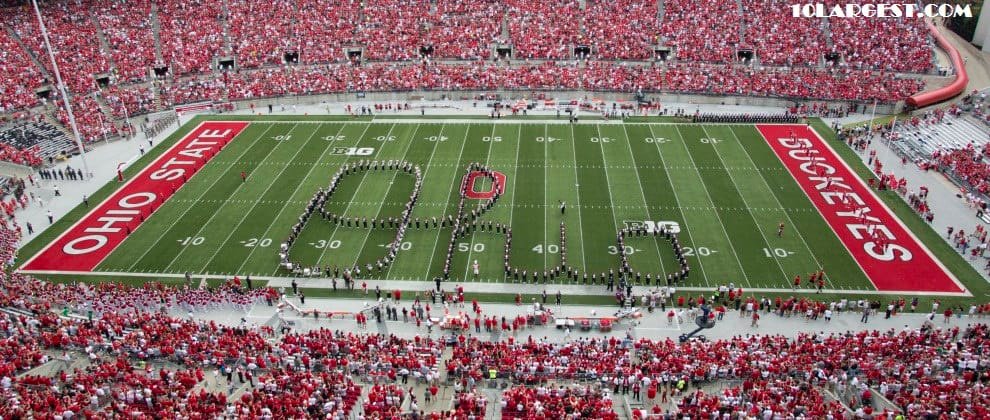 Opened in 1922, Ohio stadium underwent major overhaul in 2000-2001.  Again, it was refurbished in 2014 to include over two thousand additional seats, bringing its present capacity to 104,944. It is known as The Horseshoe because of its shape. On March 22, 1974 it was included in the National Register of Historic Places by the National Park Service
5. Neyland Stadium (Tennessee Volunteers)
The stadium opened in 1921. It has witnessed quite a few renovations over the last one decade. The last expansion was in 2010, when its capacity reached 102,445. However, it exceeded that number and accommodated 109,061fans in 2004. It is named after Robert Neyland, the head coach Vols from 1926 to 1952, when they claimed four national titles, though it has been in lump for some time now.
6. Tiger Stadium (LSU Tigers)
This stadium after its recent renovation will have a capacity of 102,231. The renovated stadium will open during 2014 only. So far, the maximum attendance has been lightly more than93, 000 in 2012, in a game against Alabama, which they lost. NCCA has ranked it as the loudest stadium in College Football.
7. Bryant-Denny Stadium (Alabama Crimson Tide)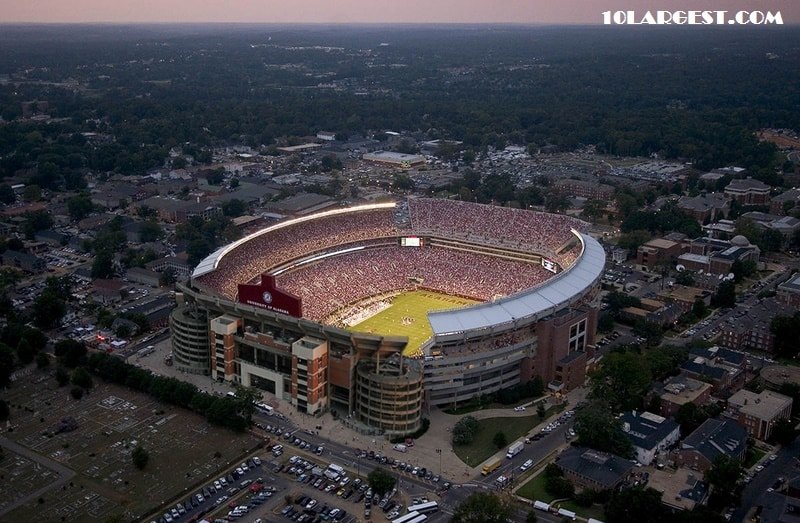 The stadium was opened in 1929. In the beginning, it was named after George H. Denny, who at one time was president of the university. Bryant was included in its name only in 1975 to honor Paul "Bear" who won six national titles for the Crimson Tide. For the time that Bryant remained with the team, Alabama lost only two times while playing here.  The present capacity of this stadium is 101,821.
8. DKR – Texas Memorial Stadium (Texas Longhorns)
Opened in 1924, Texas Longhorns is no longer the largest stadium of Texas. It derives its name from a former head coach and AD of Texas who in fact played his college football with Oklahoma, though generally memorized for his time in Austin for having won three nationwide championships. In 2009, the number of spectators went beyond 100,000 when the stadium shifted to Field Turf.  The stadium recorded its highest attendance when the strength of crowd reached 101851 on 6th October, 2012 when Wet Virginia beat Longhorns. The official capacity is 100,119.
9. Los Angeles Memorial Coliseum (USC Trojans)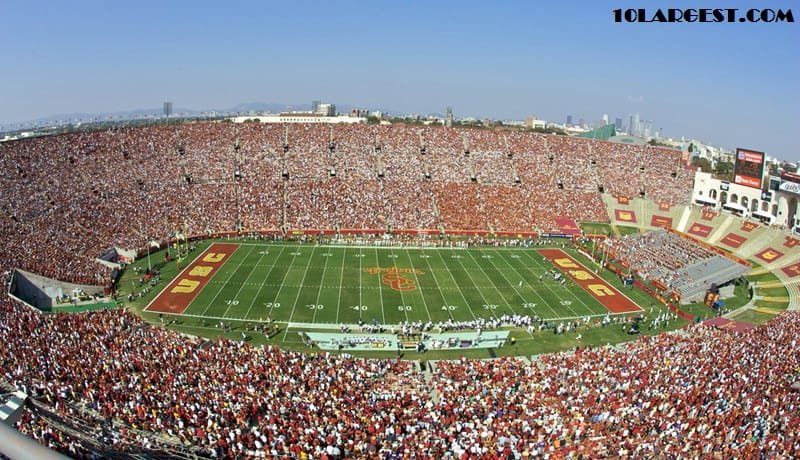 This is again one of the oldest stadiums. The recent renovations were carried in 2010 and again in 2014. Now it can contain 93067 fans. Over the year it has hosted a number of teams. It also hosted the Olympic game as early as 1932 and again in 1984. The new title A11FL Pro Football League will play here during the Spring 2015 while the league makes its first appearance.
10. Sanford Stadium (Georgia Bulldogs)
Named for Dr. Steadman Vincent Sanford, Sanford stadium is also among the oldest stadiums. Built in 1929, it underwent a number of renovations and expansions over the years to expand its modest original capacity of 30,000. Its present capacity is 92,746.  It was one of the soccer stadiums for the 1996 Olympics held in Atlanta. Both, the men's and women's competitions were held here. It is recognized for its hedges that stand around the field in some form or another ever since it opened, though the same were detached, only to be reinstalled once more prior to the Olympic games.