The popularity that Soccer enjoys worldwide has prompted many countries to build big stadiums for accommodating a large number of spectators. Here is some information about the 10 largest soccer stadiums in the world.
Salt Lake Stadium, India
Constructed during 1984 and occupying an area of 76.40 acres, Salt Lake Stadium in Kolkata is the biggest stadium in India. It is also among the biggest multipurpose stadium of the world. It has a capacity to hold 120,000 people. It is home to the two most popular football clubs of Kolkata: East Bengal and Mohun Bagan.
Bukit Jalil Stadium in Kuala Lumpur, Malaysia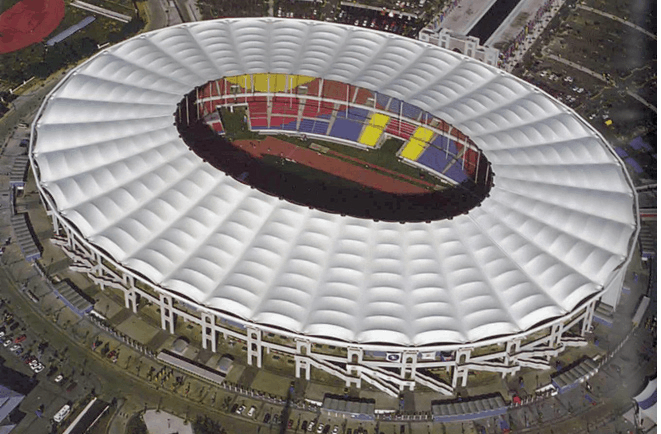 This beautiful venue that was opened in 1998 has earned the status of world's one of the biggest soccer stadiums. It is reputed for seating up to 110,000 people. It hosts a number of events for its country with North Korean soccer team playing here occasionally.  It is also reputed for having featured the execution of many generals of North Korean army who were implicated in an attempted assassination of Kim Jong-II.
Estadio Azteca, Mexico
Having a capacity of accommodating 105,064 spectators this football stadium in Mexico's capital, Mexico City is considered as the third largest stadium worldwide and the biggest in the United States of America. 120,000 is the maximum number of spectators in accommodated in 1968 when Mexican team faced the Brazilians. Built in 1968, it has had the distinction of hosting two World Cup Finals in 1960 (Brazil V. Italy) and again in 1986 when West Germany faced Argentina. It is also home to the Mexican national team and Club America.
Azadi Stadium of Tehran, Iran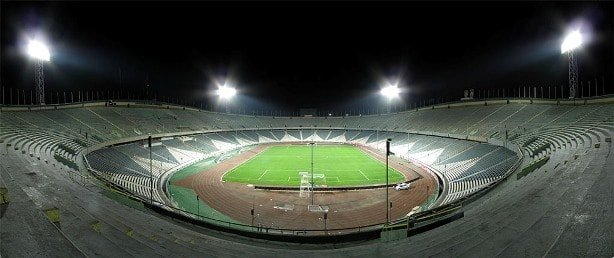 Built in 1971 and renovated in 2003 to have a capacity of 100,000, Azadi Stadium in Tehran is the biggest stadium in the Middle East. It is being considered as a prospective stadium for hosting Olympic events in future. It is home to the Iranian national team and also to Esteghlal FC and Perespolis FC, the two largest clubs of Iran that are reputed for having the most heated and intense rivalries.
Camp Nou in Barcelona, Spain
Camp Nou or Nou Camp is Europe's largest soccer stadium and notable for being the home of the F C Barcelona Football Club since in was constructed in 1957. At that time with back standing sections permissible, it could hold over 105,000 fans. It has the credit of holding quite a few of the Spanish National football matches. The stadium was renovated in 1982 and could seat 99786 spectators. In fact, it has been renovated quite a number of times. The stadium recorded the highest attendance of 120,000 spectators in 1986 during a match between Juventus and Barcelona. The 1999 champions' league final that witnessed Manchester United complete an amazing last-minute comeback against Bayern Munich was played here as was in 1989 final, the opening match of the 1982 World Cup and the 1992 Olympics final.
The Soccer City Stadium of Johannesburg, South Africa
This big stadium is located in South Africa. Though it first opened during 1989, it was renovated in 2009 for hosting the 2010 Word Cup of which it hosted eight matches that included the opening and the final match of that tournament. It has a capacity of containing 94,736 spectators. More popularly called as just soccer city, this stadium hosts matches of the national team and big league matches (Orlando Pirates vs. Kaizer Chiefs) and Cup Finals. It was from this stadium that Nelson Mandela delivered his first speech after he was released from prison in 1990. His memorial services were also held at the same place.
California's Rose Bowl, USA
One of the oldest and legendry soccer stadiums of the US is Rose Bowl in Pasadena, California. Built in 1922, it has a capacity to contain 94,000 spectators, though during 1973 Rose Bowl it accommodated 106,869. It was also the venue for 1994 FIFA World Cup. These days it mainly hosts international friendly football matches and American games.
Wembley Stadium London, UK
This is easily the most renowned soccer or sports site of the world. The old stadium was demolished in 2003 and a new stadium was built on the same site and declared open in 2007 and named as new Wembley. The first official match after its opening was between the U-21 team of England and Italy. Many consider it as the second largest soccer venue of Europe and the largest worldwide.  Built at a cost of about 800 million pounds, it is the most expensive stadium built to date. Wembley stadium hosts all England National Team games and other European football competitions too. It is designed to seat 90,000 fans and has already hosted two champion league final matches.
Gelora Bung Karno Main Stadium, Indonesia
Built in 1962, Gelora Bung Karno Main Stadium, also known as GBK (that's much simpler!) was designed to hold 120,800 spectators. However, this capacity was reduced to 88,083 when it got renovated for holding the Asian Cup during 2007. It derives its name from its first president Sukarno.  It is the main center for holding various Indonesian soccer tournaments. It is the home stadium of Persija Jakarta, Indonesia.
Borg El Arab Stadium, Egypt
Borg El Arab stadium built in 2007 and carries the name of the resort town that houses it. Located 50 kilometer west of Alexandria, which is also the 2nd largest stadium of Africa. In fact, it was constructed in anticipation of hosting the 2010 FIFA World Cup but could not do so unfortunately. It spreads over 145 acres and surrounded by 3 kilometer long fence. This gigantic stadium can accommodate 86,000 fans. It joins Cairo and Giza as venues where Egyptian team plays.
These biggest football stadiums around the world are also the symbol of new architectural era. Large stadiums give more people the opportunity to watch exciting matches. Hope you have liked the top 10 soccer stadium list. Let us know about your favorite stadium in the comment section.