The are a number of Roller coasters that are famous for thier height. Here is the list of world's top 5 highest Roller Coasters with details and photos.
1. Kingda Ka, Six Flags Great Adventure – 456 feet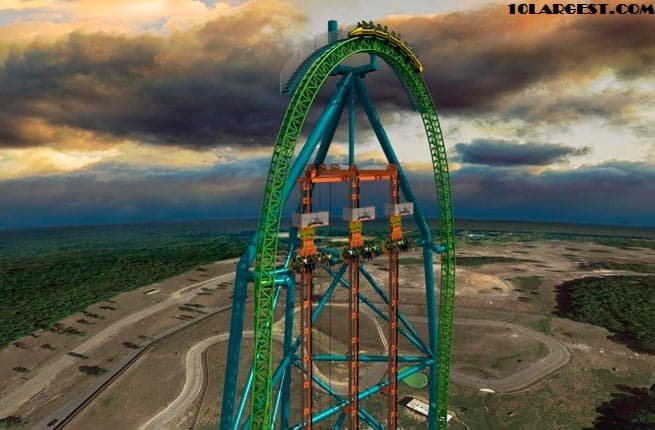 As on date the largest and also the tallest roller coaster in the world is Kingda Ka located at Six Flags Great Adventure in Jackson, New Jersey, USA.. The steel roller coaster with an accelerator was also the fastest before Formula Rossa got underway in 2010. Its hydraulic system commences the train that acquires a speed of 128 miles/hour within 3 and1/2 seconds. On ending its track, the train is at a height of 139 meters (456 feet) and has travelled a distance of 950 meters or 31138 feet.
2. Top Thrill Dragster – 420 feet
This is also a steel accelerator roller coaster located at Cedar Point in Sandusky, Ohio, USA. It was opened in 2003 and became the foremost roller coaster going in full circle to exceed a height of 120 meters or 400 feet and was reputed to be the tallest world over. Afterwards, when Kingda Ka at Six Flags Great Adventure got opened in May 2005 that status was gone. Thee two roller coasters were designed by one company, Intamin. The key difference in the design of the two is that of the theme and an additional hill that Kingda Ka features. Since 2007, it has continued attracting over one million riders annually.
3. Superman: Escape from Krypton – 415 feet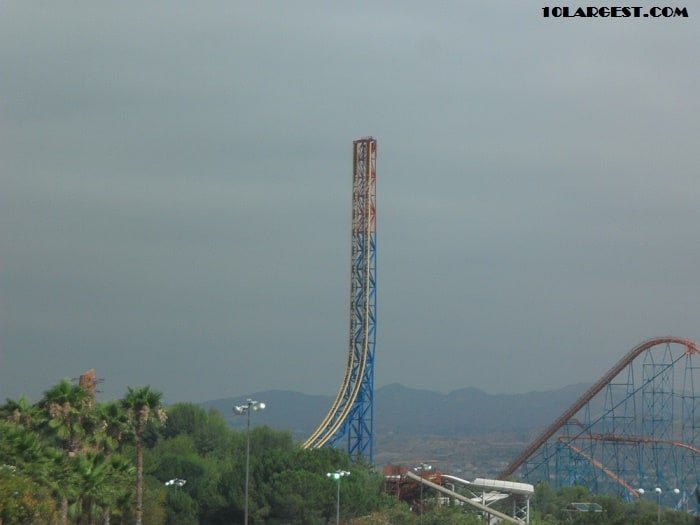 Opened in March 15, 1997, Superman: Escape from Krypton (formerly known as Superman, The Escape) is a roller with two  tracks and located at Six Flags Magic Mountain in Valencia, California, US. When opened, it was the tallest but was beaten by the Tower of Terror II at Dreamworld in Australia It was for the first time that Linear Synchronous Motors (LSM) technology was  employed for propelling these two coasters to gain maximum speed. The 676 feet long launch tunnel gets accelerated to a speed of 100 miles/hour in seven seconds. It can accommodate fourteen riders at a time.  During the course of the ride, the track becomes totally vertical for nearly six and half seconds when riders get a feeling of weightlessness, first at the time of going up and the second time on coming down. On coming down the car becomes horizontal and enters a tunnel that has cameras installed for taking photographs of riders.  During 2011 it was refurbished to contain two trains that faced backwards.
4. Tower of Terror II – 377 feet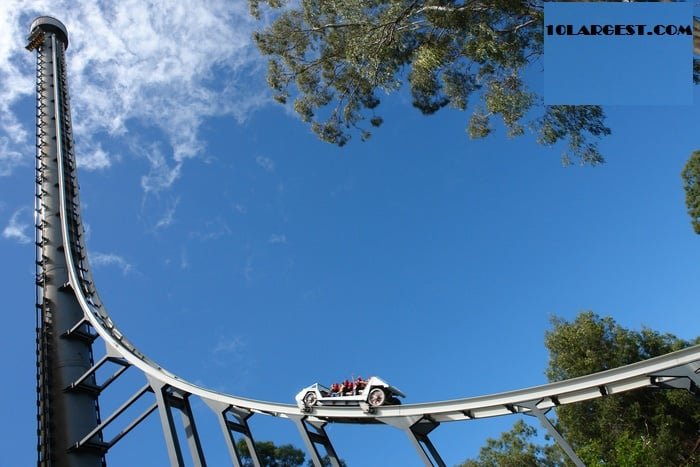 When opened on 23rd January, 1997 in Queensland, Australia, this was the tallest and the fastest roller coaster in the world. This can also accommodate fourteen riders at a time and gains it maximum speed of 100 miles per hour in seven seconds along a tunnel which is 676 feet long.  Its original name was simply Tower of Terror but was customized and re-launched during September 2010. The original ride had a smaller tunnel of eighty meters (260 ft) with a hydraulic locking system that could simultaneously contain fifteen riders.  In its case too the riders get a feeling of weightlessness for 4.5 and 6.5 seconds. As on 2010, it was the 4th tallest roller coaster ride and was the third tallest roller coaster.
5. Steel Dragon 2000 Nagashima Spa Land Nagashima, Mie, Japan
The construction of Steel Dragon 2000 needed substantially more steel than other coasters for offering protection against earthquakes. The final cost of its construction was beyond $50 million. It reaches its utmost speed of 95 miles per hour, goes up to a height of 318.3 feet. It can accommodate 28 riders per train and has seven cars in all. The Steel Dragon provides the 2nd fastest coaster ride in Japan.