The fast and furious roller coaster rides are pretty common among the Americans as many of the world's fastest roller coasters are in the US.
Fastest Roller Coasters In The USA
People love to experience the daring ride of the fastest roller coasters despite the fact that sometimes it can be blood-curdling too and Americans are no exception to this. There is nothing more American than an exciting ride on a roller coaster and the US has got the world's most amazing ones as their contribution to the list of the fastest roller coasters around the world. Also, the USA has some of the world's tallest roller coasters too.
Here we have a list of the top 11 fastest roller coasters in the United States, ranked in terms of their speed and other advanced characteristics.
"Arm down, Head back, Hold on": Kingda Ka (128mph, New Jersey)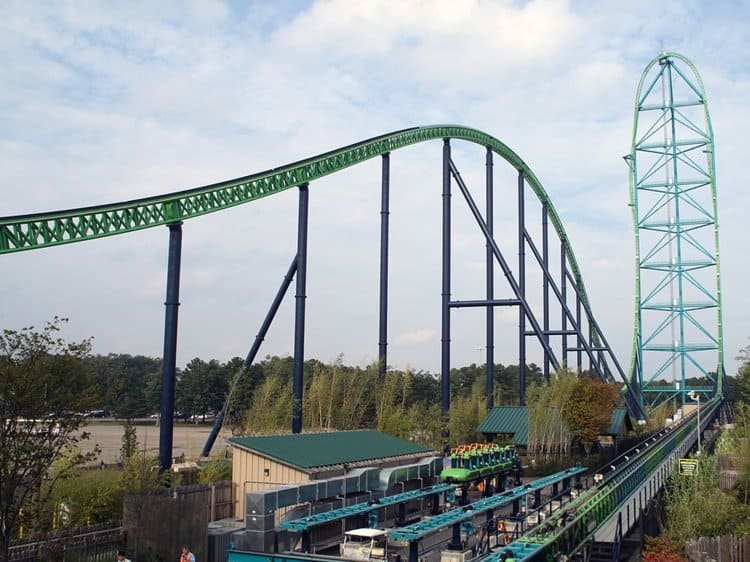 Kingda Ka is not only the world's tallest but also the fastest roller coaster in the US. It's located at Six flags great adventure in Jackson, New Jersey. This steel accelerator roller coaster (with a speed of 128mph in 3.5 seconds) was designed and manufactured by Werner Stengel and Intamin respectively.
The world's 2nd fastest roller coaster is lifted through a hydraulic launch system and there are four color-coded numbered trains such as green, dark blue, orange and teal which are for easy identification for seats and restraints.
At the termination of the launch track, four trains climb the principal top hat tower, reaching 456 feet, followed by a drop of 418 feet and spanning over a 3118-foot long track by the end of the ride. So if you are at least 54 inches tall (minimum required height of a rider) and adventurous enough, you are all set to hear the announcement "Arm down, Head back, Hold on" by which the roller coaster launches.
"Race for The Sky": Top Thrill Dragster (120mph, Ohio)
You better get ready to have your face dismantled of and don't forget to collect your chitterlings on your way out. Top thrill dragster,located in Cedar Point, Sandusky, Ohio, one of the fastest strata coasters before Kingda Ka , launches through a hydraulic system that will shoot you through the time-space continuum from a dead stop to 120 mph in 4 seconds, straight up into the sky 420 feet and twirling straight back down again. The layout, manufacturer, and designer of this fastest roller coaster are the same as that of Kingda Ka.
The main attractions of this fastest roller coaster of the US are "Christmas tree" light which is to the left of the launch area, starting line of a drag strip and its magnetic braking fins. You can enjoy to the fullest and it will be a lifetime adventuresome experience for you which could be either best or worst.
"Speedy Roller Coaster": Superman: Escape from Krypton (104mph, California)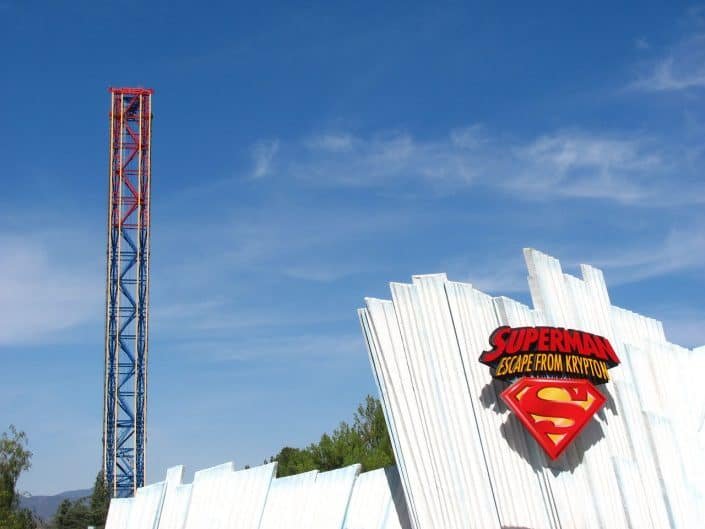 Being located at Six flags magic mountain, Superman: Escape from the Krypton has been emerged as the third-tallest structure. It's the third-fastest roller in the US, the fifth-fastest roller coaster in the world with a speed of 104mph. It's the third-longest drop in the world. At the ride's entrance, this refurbished roller coaster has an imprinted Superman "S" shield which is now painted onto the ground whereas the lit green station is designed as Krypton, a planet full of Kryptonite rock.
This roller coaster is consist of two parallel identical tracks and is accelerated by Linear Synchronous Motors. This vehicle climbs up 415 feet at a 90-degree angle and the weightlessness that the riders experience during this section will blow their mind out. After this 6.5 seconds of a vertical section, the vehicle drops 328 feet and is slowed down prior to re-entering the station.
"Hornet's Nest Of Rebellion": Fury 325 (95mph, North Carolina)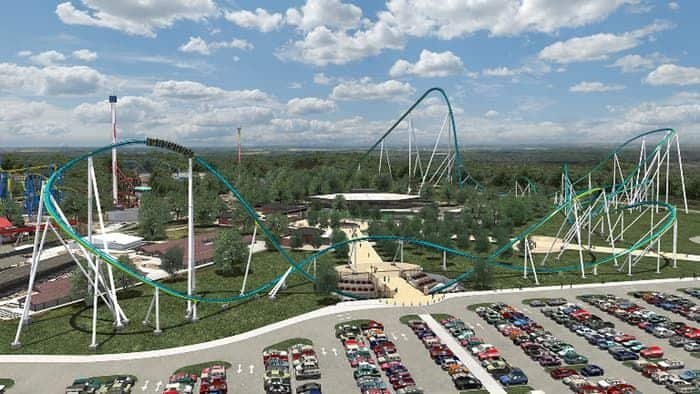 The absolutely contemporary Fury 325 is one of the world's tallest and fastest giga-coasters which is located at Carowinds, Charlotte, North Carolina. This amazing roller coaster is taller than the Statue of Liberty. The 325 feet tall roller coaster has a staggering length of 6602 feet. The total ride time is 3 minutes and 25 seconds. Fury 325 roller coaster with three open-air, steel and fiberglass trains was themed after a hornet which depicts that riders are chasing their target at 95mph speed.
Achievements of this super fun vehicle are the best new ride 2015 as well as the best overall steel roller coaster in GTAs top 50 annual publication.
"Milestone in Roller Coaster History": Millennium Force (93mph, Ohio)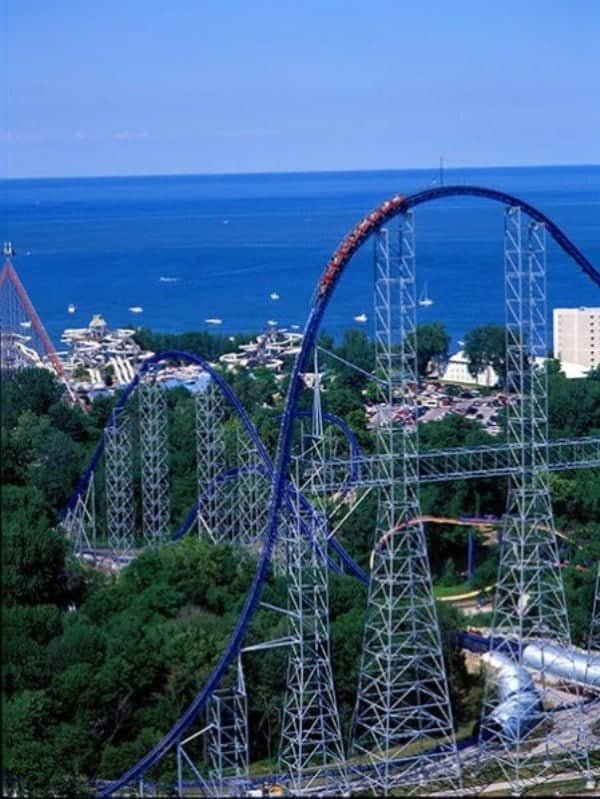 Located in the same area as that of top thrill dragster, this first-ever giga-coaster is 300 foot, a 93mph monster that begins its ride by getting up to its first hill quickly with the help of an elevator cable lift system and after that, it drops the riders down at an 83- degree angle. The whole process lasts for 2 minutes.
This speedy roller coaster operates with three stainless steel,stadium-style seating system colored trains such as yellow red and blue train. station of this coaster has got two platforms and steel tubular track which is 6595 feet long. Anyone can experience this coaster and fill their life with renewed vigor.
"Gentlemen, Start Your Engines!": Intimidator 305 (90mph, Virginia)
The 90mph threshold has been crossed by Intimidator 305 which not only reaches a top speed of 90mph but also has a drop of 300 feet at an 85-degree angle. Kings Dominion, Doswell, VA is the place where it is located. It is a steel giga-coaster manufactured by Intamin. Very interestingly it was themed after NASCAR driver Dale Earnhardt, also known as Intimidator. The lift hill structure makes it unique because the lift hill and the crest have only two main points as support.
In addition to this, it is one of the tallest rides of King Dominion because of its height which is higher than the observation platform of the park's Eiffel Tower replica. This 3minutes ride will be breathtaking for sure.
"Hyper Twisted Coaster": Titan (85mph, Texas)
The titan roller coaster is located in Arlington, Texas. It's an amazing combination of an out and back roller coaster and also a hyper-twisted roller coaster as well.
Among 11 of the fastest roller coasters in the USA, this hyper-twisted coaster named Titan will drop you 255 feet through two mind-warping 540 degree twisted spirals and lastly continues through banked turns at 85 mph on the 5312 feet track.
Generally, the ride commences with a slow U-turn out of the station and enters the final brake run to return to the station. The time in between these two processes is 3.30 minutes. Track layout of the Titan is mostly similar to that of Goliath and it operates three trains each having five cars.
"Steel Phantom": Phantom's Revenge (85mph, Pennsylvania)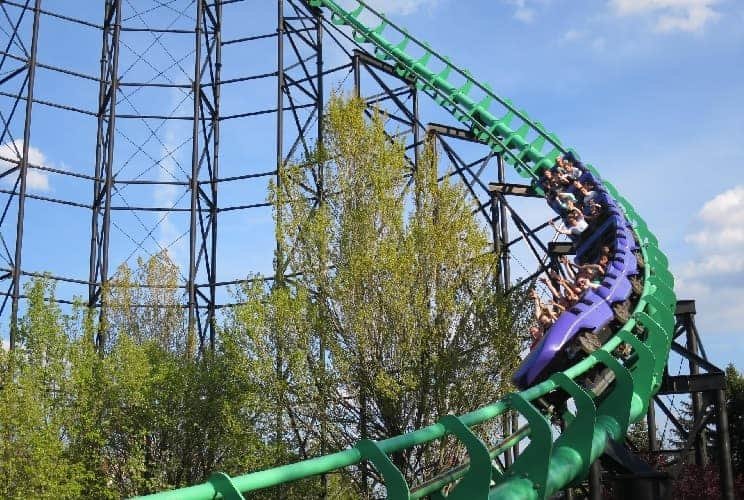 America's favorite traditional amusement park Kennywood in West Mifflin, Pennsylvania has an iniquitous surprise for its riders which is Phantom's revenge. It features a 232 feet drop and the 85 mph speed. This is a 1 minute and 45 seconds ride. Originally, it was manufactured by Arrow Dynamics and later renovated by D.H Morgan manufacturing.
What makes this roller coaster extraordinary is that its second drop is much longer than that of the first drop. Due to its different elevation changing experiences, it's considered to be a terrain roller coaster that operates two trains each having seven cars.
"Best Coaster in The South East": Goliath (85mph, California)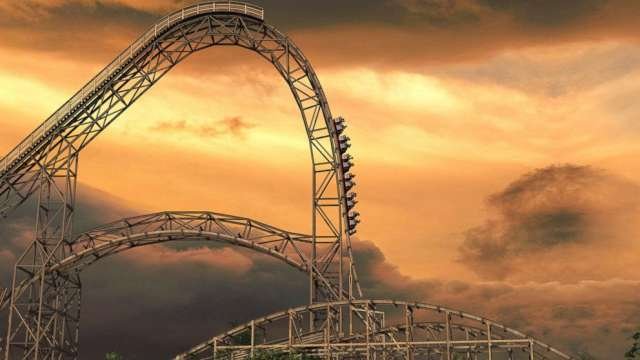 The goliath hypercoaster is in six flags magic mountain – Valencia, CA. It features a 255 ft drop into an underground tunnel at 85 mph speed which is followed by another 185 ft drop. As u experience a 3-minute ride, you will feel yourself weightless along with a 4.5 G-force.
Bolliger and Mabillard designed it such a way so that it can reach a maximum of 200 ft height, 70 mph speed. It has a 4480 feet steel track for two trains.
Moreover, it features 6 camelback hills and a 540-degree helix which is like an icing on the cake and increases the beauty of the ride.
"The Hydraulic Catapult Motor Accelerator": The Xcelerator (82mph, California)
The Xcelerator, one of the fastest roller coasters in the United States, is located in Knott's berry farm, Buena Park, Calif. Being appeared in numerous tv shows, this roller coaster has undoubtedly gained much popularity around the world.
It's twin hydraulic catapult motors enables a train to travel 157 feet track at a speed of 82 mph in 2.3 seconds. A red and a violet train is featured in this fun process. This one minute and two seconds ride may look innocent but it is way more dangerously exciting than one can even think of.
"The Mighty Roller Coaster": Nitro (80mph, New Jersey)
Nitro roller coaster is the last one in our list of the fastest roller coasters in the US. This steel roller coaster was designed by Bolliger and Mabillard at Six flags great adventure in Jackson, New Jersey. It operates three open-air and fiberglass trains that can be loaded and checked quickly.
A 5394 feet track got few colors: yellow and pink, with blue supports. Besides, it has the second steepest drop. The speed and duration of this roller coaster ride are 80mph and 2.20 respectively.
A roller coaster always becomes a cynosure of any amusement park. Americans have always been engaged in designing the worlds most interactive and hair raising fastest roller coasters.
The United States is enriched with some of the most attractive amusement parks in the world. One can find all the outstanding roller coasters such as Kingda Ka, Top Thrill Dragster, Goliath and many more without stepping any other country.
All these rides are so breathtaking that they won't even allow you to figure out what just happened to you and your ride will be finished in the blink of an eye. If you live in the US or traveling there, enjoy the nearest roller coaster ride and we can assure that you won't regret.