When it comes to higher education, many people think that the bigger the university, the better the education. There are also others who disagree with this and believe that a smaller school will offer a better education. However, many of the top college professors are romanced into joining the larger universities because of the incentives that are offered by these universities. The largest universities in the United States are known for their excellent academics and highly knowledgeable professors. Here is the list of 10 largest universities in USA.
1. University of Phoenix – Even though the University of Phoenix offers a physical campus and an online campus, the online campus has the largest number of students. The original physical campus is located in Phoenix, Arizona and now there are several satellite locations throughout the United States. There are about 307,965 students enrolled at the University of Phoenix. Although there are numerous degrees offered, the School of Business is what made them so popular.
2. Kaplan University – Kaplan University is able to provide online courses as well as a physical location in Iowa with several satellite locations. The students that are enrolled at Kaplan University are able to take over 50 percent of the classes for their program online which allows for excellent flexibility. The career-focused programs are able to be completed with quickly and without disrupting work schedules. Students can easily balance all their responsibilities including academics. Kaplan University currently has 77,966 students enrolled in their programs.
3. Arizona State University (ASU) – Arizona State University has four campuses and is the largest research university in the United States. The original campus is still their largest campus and is located in Tempe, Arizona which is about eight miles outside of Phoenix, Arizona. The College of Liberal Arts and Science, Ira A. Fulton School of Engineering and the Sandy Day O'Conner College of Law are three of their top programs offered and make up a large chunk of the 70,440 students enrolled at the university.
4. Ashford University (AU) – Ashford University's campus is located in Clinton, Iowa which is centrally located between Chicago and Des Moines. It is a co-educational liberal arts university and has degree programs that can be completed on the physical campus as well as online. Ashford University offers more than 25 undergraduate and three graduate degree programs. There are currently 63,096 students enrolled in their degree programs.
5. Miami Dade College (MDC) – Miami Dade College started as a small college with only 1,428 students. It has now grown to 61,674 students enrolled in one of their many degree program options. There are several campuses that now make up Miami Dade College throughout the state of Florida. Miami Dade College has a partnership with Florida International University to offer even more degree programs on their campuses.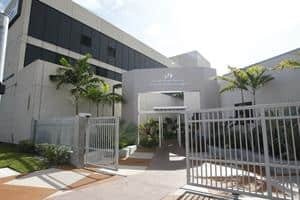 6. Houston Community College System (HCC) – Even though the Houston Community College System only supports community colleges, it is still listed among the largest colleges in the United States. Located in Texas, campuses are located in Houston, Stafford and Missouri City. Throughout Texas, the Houston Community College System includes nine cities and portions of three other cities. There are six colleges that work in conjunction with the Houston Community College System. Current enrollment is 60,303.
7. Liberty University (LU) – Liberty University is considered to be the largest Evangelical Christian University in the world. It is located in Lynchburg, Virginia. This makes it one of the largest universities in the USA. Founded by Dr. Jerry Falwell, Sr. as a religious co-educational institution to train and develop Champions for Christ. It has since evolved to offer several degree programs. It is still a private college but offers over 60 accredited degree programs. There are 56,625 students enrolled at Liberty University.
8. University of Central Florida (UCF) – The University of Central Florida is a part of the State University System of Florida and is a metropolitan research university located in Orlando, Florida. It was started as the Florida Technological University and trained students to work at the Kennedy Space Center. Now it offers degree options in several fields that contribute to the study of space. It is a space-grant university and excels in computer science, digital media, education, optics and modeling and simulation. There are currently 56,106 students enrolled at the University of Central Florida.
9. Ohio State University (OSU) – The Ohio State University is the largest single campus university in the United States. Located in Columbus, Ohio, it is a public research university. It was originally established as a land grant university and had 24 students enrolled. Now, it boasts 56,064 students enrolled in their programs. The Ohio State University is the leading research and teaching university in the United States. It has four renowned colleges that are much sought after: Moritz College of Law, Fisher College of Business, Glenn School of Public Affairs, College of Medicine and Public Health.
10. Lone Star College (LSC) – Lone Star College is located in Montgomery, Texas. There is over 40 degree programs offered at Lone Star College. It is a two-year college that is well known for its areas of study in criminal justice, nursing, fire science, human services and computer information technology. The Lone Star College offers transfer programs through Texas A&M, Texas South, Sam Houston State, Prairie View A&M, University of Houston and University of Houston-Downtown. There are currently 54,412 students enrolled at Lone Star College.