Below is a list of 10 largest hotels in the world. Now this list isn't going to please everyone, as different sites claim different numbers of rooms. This article is relying on as its sources the most recent statistics available on these hotels. These hotels are colossal examples of mankind's presumptuousness, bigger than some of the natural wonders of the world. In fact, it's not a stretch of the imagination to say that some of these hotels could house large cities within their walls. They hold thousands of rooms, restaurants, lounges, theaters, even malls, observatories, and plenty of other diversions to keep guests wrapped up in the magical world created indoors.
10. Excalibur, Las Vegas
At first glance this hotel appears to be straight out of a fairytale. The Excalibur hotel opened in 1990, and has been through renovations the last of which was reportedly in 2008. While it does rate number ten on the list for its largeness, however, some traveler reviews have pointed out that maybe it could use a tad more work on the updating. Perfectly situated on the Las Vegas strip, it's also extremely cheap to book a room there. You can rent rooms at the Excalibur for as little as thirty-two dollars a night. Not a bad deal if you're traveling with family.
The Excalibur has 3,981 rooms, in 2 towers, with 28 floors. It also has not one, not two, but several theaters, a large arena where they hold medieval style tournaments, stores, restaurants, a wedding chapel, pool, and naturally, a casino.
9. The Venetian, Las Vegas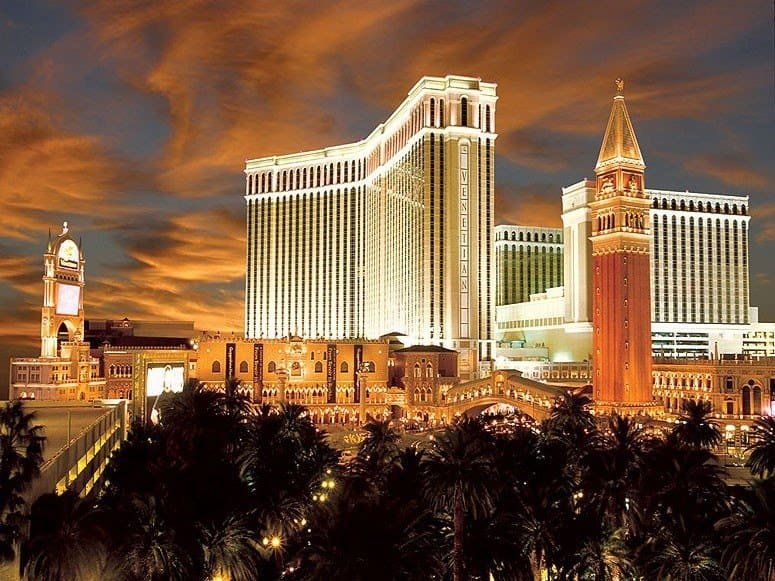 It shouldn't stun anyone to learn that most of the hotels on this countdown list are located in Las Vegas. It is a popular tourist site, and nobody does big better than Vegas. Here the hotels are in a never-ending competition to have the biggest, the brightest, the best attractions. The Venetian is down the street from the Excalibur, but it is a long way, and like entering another world entirely. The Venetian has a completely different theme and atmosphere about it. It has 4,027 guest rooms available, but talk about big, many of these rooms are actually suites which surpass the size of those found in other hotels. The Venetian is a huge, 5 star hotel, so prices for a room start at $163 per night. The Venetian was opened in 1999, taking over the spot where the Sands hotel formerly stood. The Venetian has a large shopping mall full of stores that sell designer labels, and an indoor waterway that is a replica of Venice's Grand Canal, right on down to the Gondoliers. Right next to the Venetian is the Palazzo hotel, which when the two are combined together, makes for a hotel complex with more than 7,000 rooms.
8. Ambassador City – Jomtien, Thailand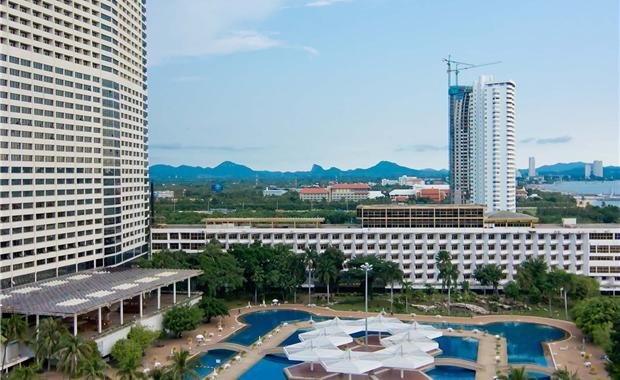 Ambassador City is an incredibly gigantic 40 acre hotel in Pattaya, Thailand. It has a huge, extravagant pool deck, as well as the advantage of being situated right on the beach. It also features four large, comfortable wings with various styles of room in each wing. All together, Ambassador city has a grand total of 4,210 rooms. The hotel is rated four stars, but due to the fact that it's one of the oldest hotels in the area, the room rates don't start large at only $38 per night.
Read our article on 10 Largest Water Parks In Earth
7. Mandalay Bay, Las Vegas
So Las Vegas has yet one more of the world's biggest hotels. Like many hotels you find in Las Vegas, the Original Hotel, Mandalay Bay, had a sister hotel added later on. They are very near to one another, so near in fact that they can probably count as one unit. THEhotel has 1,117 rooms, while Mandalay Bay has 3,220 all contained in 43 stories — which makes a grand total of 4,337 rooms. If you would like a room in Mandalay Bay, they start at $77 a night, while THEhotel is a slightly more expensive. THEhotel has some of the largest suites available in Las Vegas. Mandalay Bay opened in 1999 while THEhotel opened in 2003. Mandalay Bay has one of the largest convention centers in the United States. The hotels are what you would except from a large Vegas hotel, meaning a shopping mall, spa, pool, chapel, and big casino. The hotels belong to the group of MGM Resorts, the same group to which the Excalibur Belongs. Am I sensing a pattern here?
6. The Luxor, Las Vegas
Well if it's not yet another biggie from Vegas, and a member of the MGM Resorts group too! I guess all the big guys like to hang out together, because the Luxor is located rather close to the Excalibur. It is an Egyptian-style hotel — naturally with pyramid — what Egyptian-style hotel would be complete without one? It also has a huge replica of the Sphinx. The hotel consists of two 22 story towers, and if that isn't majestic enough for you, there are also rooms in the pyramid, adding up to a grand total of 4,400 guest rooms. The Luxor was built in 1993, not long after the Excalibur, but it opted for a much modern look. Rooms start at $40 a night, and rates at three and a half stars.
5. The Wynn and Encore, Las Vegas
Yes, this is a Vegas hotel, but the only one on this top ten list that does not belong to the huge MGM group. The Wynn stands on its own on all of it's immense glory. The Wynn is located on the opposite side of the Las Vegas strip across from Mandalay Bay. There the Wynn and its sister, the Encore pretty much dominate the market in opulence. The Wynn opened its doors in 2005, and the Encore in 2008, and both hotels are big, but they have an elegant, modern appearance, bound to make an impression on anyone who steps inside. With the Wynn you get all of the expected big hotel features, but there's also much more. The Wynn also sports an eighteen hole golf course, and a Ferrari dealership. A room for the night there will cost you a minimum of $120.
4. Disney All – Star Resort, Orlando
The Disney All-Star resort in Orlando, Florida, happens to be the only Disney resort on the list. Actually this huge resort is three resorts — Disney's All-Star Sports Resort, Disney's All-Star Music Resort, and Disney's All-Star Movies Resort, each complete with its own theme and decor. They may be technically considered separate, but these hotels are all close together and the same company owns them. The Sports resort has 1,920 rooms, The Music Resort has 1,818, and the Movies Resort has 1,920, equaling 5,658 rooms in all. At just under three stars, this hotel starts at $120 a night, but is also very kid-friendly.
3. First World Hotel Genting Highlands, Malaysia
Coming in at number three, this colorful colossus is a three-star hotel located in Pahang, Malaysia. It is located within walking distance of Genting theme-park. Currently the hotel is under renovation, but it has 6,118 rooms, and was recorded as a record holder by Ripley's Believe it or Not and Guinness World Records. Read about the largest diamonds in the world.
2. The MGM Grand and The Signature, Las Vegas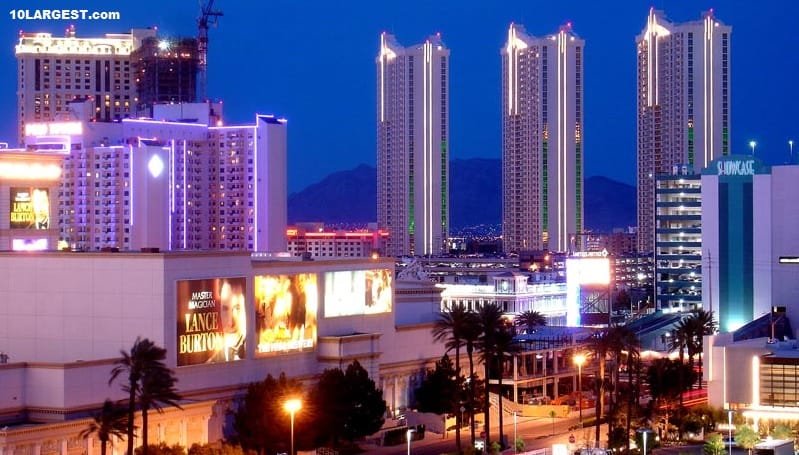 If this countdown were only focused on the largest Las Vegas Hotels, then The MGM Grand, owned by the MGM Resort Group would win hands down. Work finished on the project in 1993, leaving the MGM Grand with 5,044 guest rooms, contained in four 30 story towers. The sister hotel to the MGM Grand is The Signature, which contains 576 rooms in each of its three towers. The MGM also has SKYLOFTS-51 two-story lofts for rent. Without SKYLOFTS, the MGM still has 6,772 rooms. The MGM has won several awards, and was named the World's Leading Casino Resort for 2013.
1. Izmailovo, Moscow
This gigantic hotel was built in 1979 and has yet to be surpassed in size. It consists of four hotels with 30 floors each, all within close proximity to each other. Erected on former Romanov land, the hotel housed athletes during the 1980 Moscow Olympics. The four sections are named Alfa, Beta, Vega, and Gamma-Delta, and combined have 7,500 rooms.